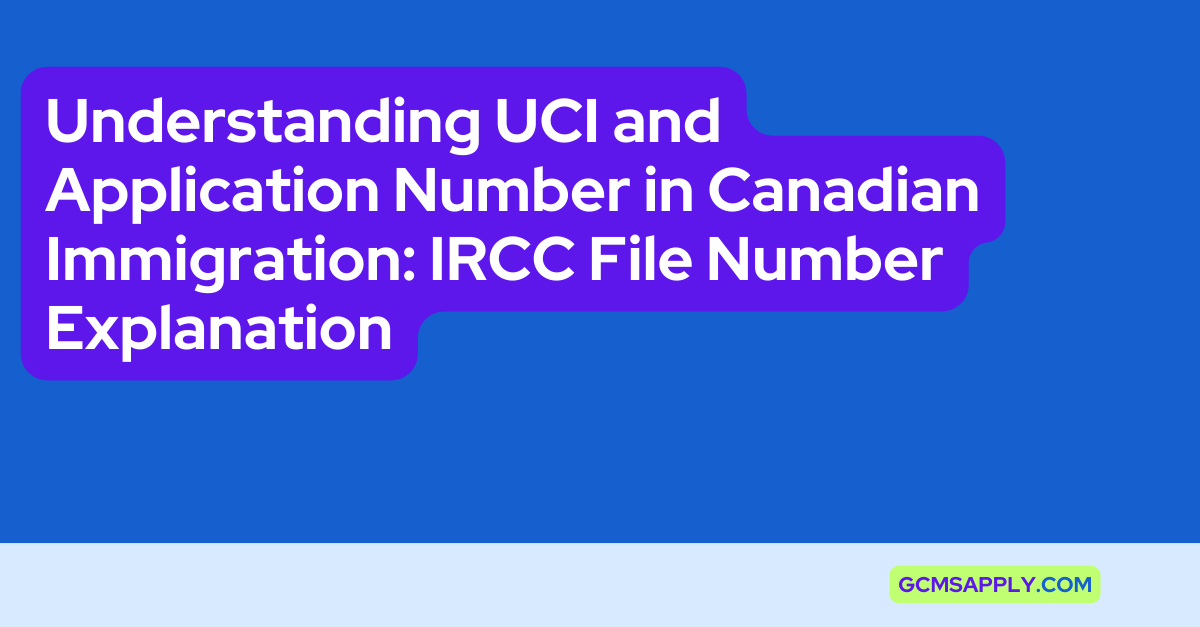 What is UCI (Unique Client Identifier) in the context of Canadian Immigration?
When engaging with IRCC (Immigration, Refugees and Citizenship Canada), a distinct number is assigned to individuals. This number, known as UCI, can consist of either ten digits (e.g., 01-2345-6789) or eight digits (e.g., 1234-5678). UCI stands for Unique Client Identifier, and it serves as a unique identification for applicants. It allows IRCC to link individuals to their multiple applications. For instance, in a family of four applying for immigration or a visa, each member receives a separate UCI.
Temporary UCIs may also be issued by IRCC. Here are two examples:
Express Entry applicants are assigned UCIs starting with CAN000123456789.
Other applicants may receive temporary UCIs in the format X01-2345-6789 or T01-2345-6789.
These temporary UCIs will eventually be replaced by an eight or ten-digit UCI.
The UCI remains unchanged for each applicant throughout their lifetime, meaning that your UCI remains constant for all applications submitted to IRCC. It also remains consistent for any interactions you have with CBSA. This implies that if you are already aware of your UCI, you can utilize it for future applications.
Where to find my UCI?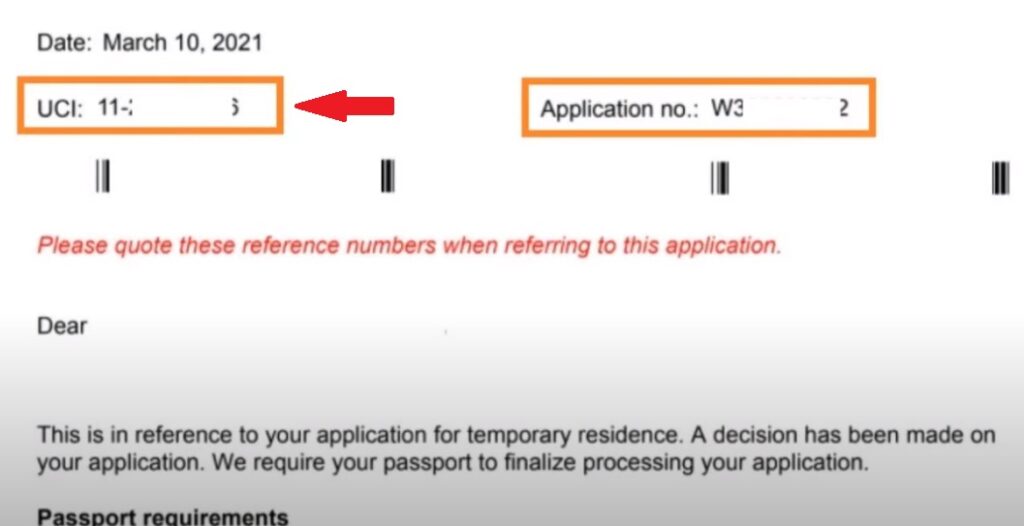 Having a UCI (Unique Client Identifier) is contingent upon prior interactions with Canadian immigration authorities. These interactions encompass various scenarios, such as:
Applying for temporary statuses like an eTA (Electronic Travel Authorization), TRV (Temporary Resident Visa), work permit, or study permit.
Dealing with a removal order.
Immigrating to Canada.
Sponsoring your spouse or common-law partner (both inland and outside-Canada options).
Making refugee claims within Canada.
Sponsoring other family members, such as parents or grandparents, siblings, nieces or nephews, or aunts or uncles.
It's important to note that this list is not exhaustive. Whenever you engage with immigration authorities, they correspond with you, which may involve receiving various documents, such as:
Emails.
AOR (Acknowledgement of Receipt) letter.
COPR (Confirmation of Permanent Residence).
Visa counterfoil.
PR (Permanent Resident) Card.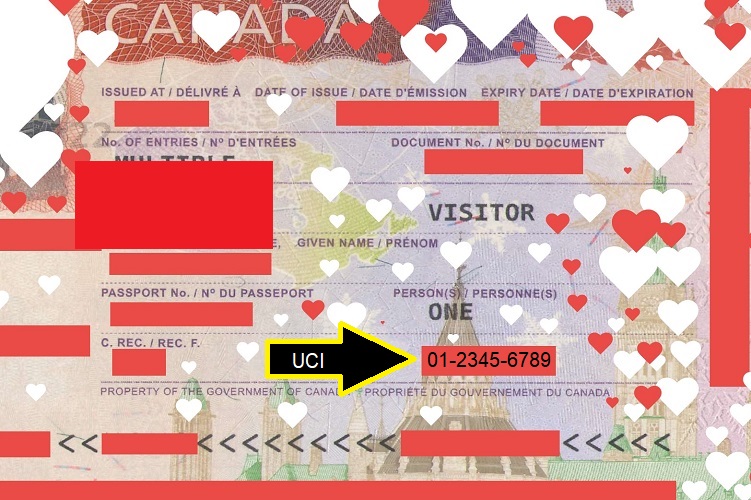 All these documents contain your UCI, so be sure to locate the 8 or 11-digit UCI on them. Sometimes, the term UCI or Client ID may be mentioned alongside the number. However, it's worth mentioning that identifying the UCI on visa counterfoils can be a bit challenging. The accompanying image demonstrates how to locate the UCI on this particular document.
What is Canada Visa Application Number or File Number?
The application number or file number is an exclusive identifier assigned to your submitted application. Typically, this number commences with one or more letters, followed by nine digits. Here are some examples:
Full list of Canada Visa Application Number types and samples:
E123456789 for economic immigration
V123456789 for TRV (Temporary Resident Visa), Visitor Record, or eTA (Electronic Travel Authorization)
S123456789 for study permit
W123456789 for work permit
H123456789 for Humanitarian and Compassionate considerations
L123456789 for refugee claimants
C123456789 for citizenship applications
D123456789 for TRP (Temporary Resident Permit)
I123456789 for IFHP (Interim Federal Health Program)
J123456789 for Pre-Removal Risk Assessment (PRRA)
RHB1234567 for rehabilitation
ARC1234567 for ARC (Authorization to Return to Canada)
F123456789 for family reunification
EP12345678 for PNP (Provincial Nominee Program) applications
N123456789 for Removal orders
G123456789 for refugee resettlement or protected people PR (Permanent Residence) application
SV12345678 for verification of status
B123456789 for some older immigration applications
PR12345678 for Citizenship certificates
It's important to note that instead of the placeholder "12345678," you will receive a unique number specific to your application. In some cases, IRCC may issue temporary file numbers, indicated by an X at the beginning of the application number. However, if your application progresses, the X will be removed. There may also be rare instances where a temporary file number is replaced with a new one.
The file number or application number remains constant for a specific application, ensuring that you will not encounter any changes to the file number during the course of that application. It's worth noting that if you were initially assigned a temporary application number, there is a possibility of receiving a new permanent number. However, once a permanent file number is assigned, it remains consistent for that particular application. It is important to emphasize that when opening a new application, a new file number will be allocated to you.
Read more: How to Apply for a Canada Visa and Avoid Refusal: A Guide to GCMS Notes
Where to find Canada visa application number or file number?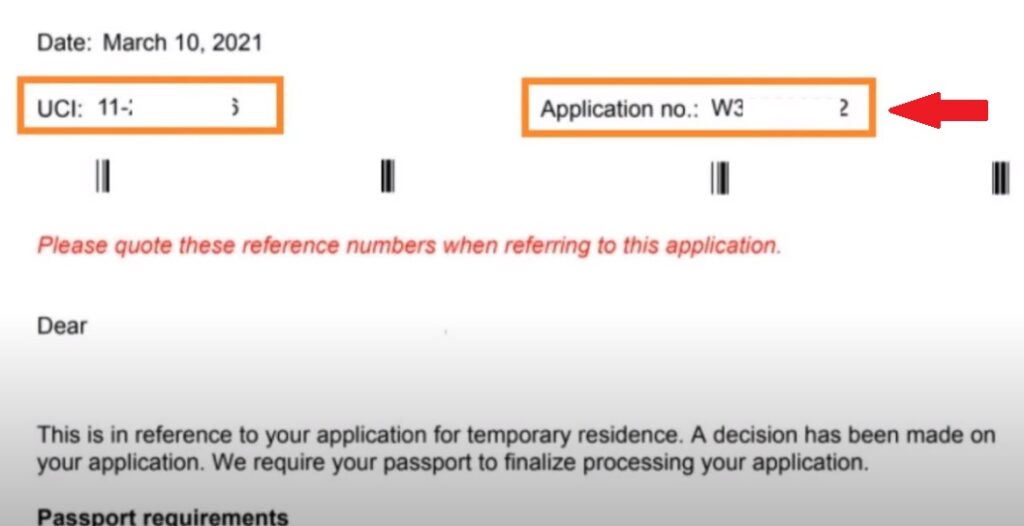 To find an immigration file number, the most effective method is to consult the correspondences you have received from IRCC (Immigration, Refugees and Citizenship Canada). This can include emails or physical letters that they have sent to you. If you have enlisted the services of an immigration representative, you can also seek their assistance in locating the file number.