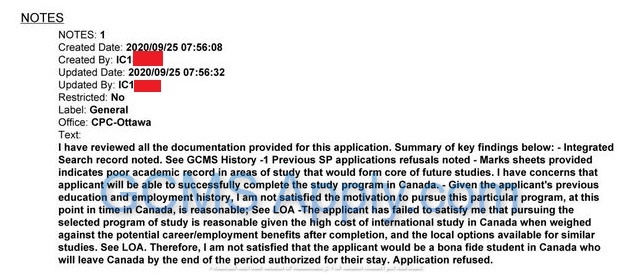 What is GCMS Notes?
GCMS stands for Global Case Management System, which is an internal system used by Immigration, Refugees and Citizenship Canada (IRCC) to manage immigration and visa applications. GCMS notes, also known as CAIPS (Computer Assisted Immigration Processing System) notes, are detailed records of an individual's immigration application stored in the GCMS database.
GCMS notes contain a comprehensive record of the processing of an immigration application. They include information such as the application forms submitted, supporting documents, correspondence between the applicant and IRCC, internal notes made by immigration officers, and any decisions or actions taken regarding the application.
GCMS notes are highly valuable for individuals who have applied for immigration or visa programs in Canada, as they provide insight into the status and progress of the application. These notes can be requested by applicants or their authorized representatives through an official request process, typically known as an Access to Information and Privacy (ATIP) request.
Obtaining GCMS notes allows applicants to review the details of their application, identify any errors or discrepancies, understand the reasons for a decision, or gather information for an appeal or legal purposes. It provides a comprehensive overview of the immigration officer's assessment and reasoning behind the application's processing.
It's important to note that GCMS notes are considered confidential and are provided only to the applicant or their authorized representative. They are not publicly accessible and can only be obtained through a formal request to IRCC.
To request GCMS notes for an immigration application, the process varies depending on whether you are making the request from inside or outside Canada. Here's a step-by-step guide for both scenarios:
How to apply GCMS notes if you are inside Canada?
Go to ATIP Portal (https://atip-aiprp.apps.gc.ca/atip/welcome.do)
Start a New Request: Click on the "Start a new request" button to begin the request process.
Select the Appropriate Options: Choose the applicable options for your request, such as "Immigration, Refugees and Citizenship Canada" or "Canada Border Services Agency" as the government institution.
Provide Personal Information: Fill in your personal details, including your full name, date of birth, immigration application number, UCI, Address, Contact number, Email Address.
Submit the Request: Review the information you provided, ensure it is accurate, and submit your request. You may be required to pay the processing fee at this stage.
Pay the Fee: Process the payment of the CAD $5 fee through the online payment options available on the portal.
Wait for Processing: After submitting your request and payment, the ATIP office will process your request. The processing time may vary, but you should receive a response within a 30 to 60 days.
Access the GCMS Notes: Once your request is processed, you will receive the GCMS notes either by email or through the ATIP portal, depending on the communication method you selected during the request process.
How to apply GCMS notes if you are outside Canada?
If you are located outside Canada, you are unable to directly request GCMS notes from IRCC or CBSA (Canada Border Services Agency). Instead, you can apply for your GCMS notes with the help of someone you know who is a Permanent Resident or Citizen of Canada. The fee for this service remains the same at CAD $5. To proceed, you will need to complete the consent form, which allows the individual in Canada to request the GCMS notes on your behalf.
In case you don't have any contacts in Canada, there are third-party service providers available who can assist you in obtaining GCMS notes from IRCC and CBSA. These service providers will handle the process of requesting the GCMS notes on your behalf, and once they receive the notes, they will provide them to you. Typically, the third-party service providers charge a fee for their assistance. Ensure you understand their pricing structure and pay the applicable fee.
It is important to exercise caution when utilizing third-party services and ensure you choose reputable providers to safeguard the security and privacy of your personal information.